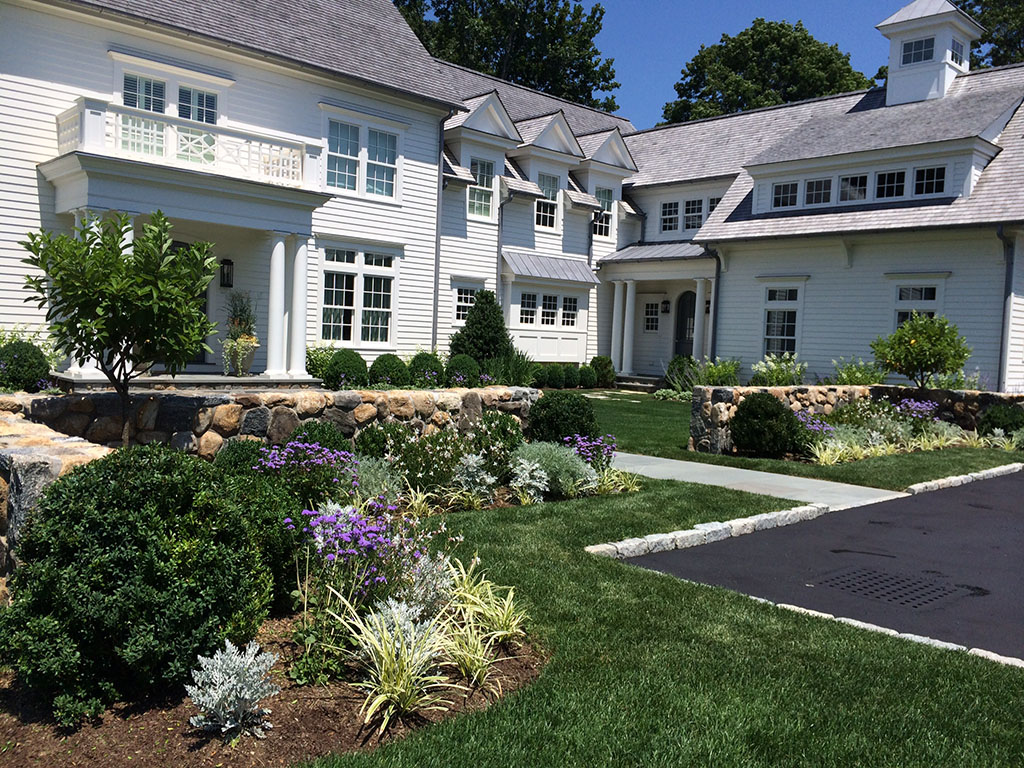 Welcome
Avant Gardens is a team of designers and true horticulturists working in Fairfield County, Connecticut. We are dedicated to individualized attention for each and every one of our clients. The relationships we form in time with our clients goes far beyond the gardens we cultivate. Having a personalized connection to our clients means that we uniquely tailor their gardens to their own styles and tastes, with thoughtful designs down to the very last detail. Designing on paper, nurturing their gardens and landscapes through the seasons, container garden plantings, and gracefully transitioning the outdoors into the home with floral arrangements for the everyday to the holidays.
On Paper ...
The constant stream of garden grandeur cannot be an act of faith or whimsy, but must be an eloquent and carefully articulated creation. A landscape of elegance, distinction, and timelessness begins first and foremost with a well-composed Mater Plan. As with any project, a comprehensive and detailed plan is of utmost importance. It allows for the seamless integration of aesthetics, function, and manageability into your landscape, while acting as a canvas for inspired ideas to flow from one corner of your property to the next. The Master Plan will offer you a first glimpse of an outdoor environment you will love to live in and enjoy for years to come.
In the Garden ...
It is a common understanding that a gardens vulnerability to the vagaries of weather, the influence of their surrounding environments, and the moodiness of plants within them, incessantly change the shape and character of a garden. It's no wonder, that in order to keep the initial design of a garden, we must give constant care to these complicated and intricate 'beds of life'.
Avant Gardens has designed a full season, comprehensive, Fine Gardening program based on innovative and interesting techniques for managing gardens and landscapes. We fully encompass the responsibilities and obligations necessary to maintain a vigorous, sensible, and pleasurable living art form; your landscape. Evidence of our deep knowledge of plant life is apparent through our sophisticated sensitivity for nature's natural systems, and consideration for detail, when managing and cultivating your landscape. This, combined with lengthened experience and expressive rein to our own enthusiasm, make way for an exceptionally unique gardening program.
The Fine Gardens Program is unique in that it's specifically designed around your gardens and landscape. It begins with a complete overview of your property, taking into consideration the issues and opportunities your landscape presents. We then customize a program tailored to your needs and the needs of your property, giving the utmost attention to detail. With a full season of horticultural maintenance, we will reveal your landscapes full potential, while enhancing the elegance, beauty, and value of your home.
In the Vase ...
Gardens are continuously changing and consequently, they become momentary art forms. Throughout several seasons, even several days, gardens will never pose twice for the same picture. What better way to capture the fleeting splendor of the gardens than with botanical elements to grace the home. Avant Gardens understands the enthusiasm our clients share for botanicals enriching their every day lives, and we are here to add the finishing touches to the homes we adorn.
Additionally, we delight in the coordination of the details for weddings, parties, and events. By artfully aranging the living beauties of the gardens, we create stunning tablescapes, bouquests, and arrangements to embellish and decorate your exquisite affairs.
About
Anna Haines is a floral and landscape designer based in Fairfield County. Her gardens, flower arranging, and entrepreneurship has blossomed into a reputable business that services over 30 homes in the region. Her container gardens of flowers, foliage, fruits, and branches are one-of-a-kind, tailored to each clients individual style. As a florist, she creates evocative arrangements and tablescapes, often gathering materials herself from the surrounding landscape, gracefully transitioning the outdoors into the home. Her extensive network of floral wholesalers and growers ensures her team is capable of sourcing exquisite flowers for events along the East Coast, helping you with all floral and decor needs for weddings, parties and other events.